Thanks to all of our sponsors, attendees, donors, board, staff and residents who made the 20th Anniversary the most successful breakfast to date!
Getaways Raffle Prizes:
Congratulations to our big winners!
1st Prize – Here We Go Steelers!
Meghan Pasquarelli from St. Paul's Cathedral Parish
2nd Prize – Let's Go Pens!
Michelle Zemencik from St. Barbara's Parish
3rd Prize – Near or Far
Mary Ann Stebelsky from St. Joseph's Parish
Thanks to all of our supporters!
Mark your calendars for the 2017 Setting a Place for My Sister Breakfast on Friday, October 6th!
2016 Community Partner
This year we are recognizing Blaine Hill Catering – Gary Musisko for his generous support of our Resident Cookout. Gary (aka Droopy) and Dana come every year to grill up delicious burgers, brats and dogs and prepare their famous Kennywood fries. The Cookout is one of the few times a year that our residents can come together with Board Members, staff and other residents to celebrate the Summer with food, games and good company. We are so appreciative for the support of Blaine Hill Catering for being part of this celebration and allowing Sisters Place to offer this special program. We cannot thank Gary enough for sharing his love of food and generous spirit! Please join with us to recognize Blaine Hill Catering, Gary and Dana in this special way.
Resident of the Year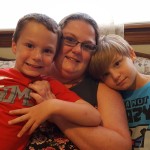 Katelyn M.
After serving several years in the U.S. Navy, Katelyn M. found herself faced with difficulties reintegrating into civilian life that left her feeling depressed, overwhelmed and homeless with two young children.
Hoping to find help and refuge from these difficult circumstances, Katelyn returned to her home town of Clairton in need of support, housing, new direction and time to get back on her feet. Katelyn brought her family to the doorstep of Sisters Place in 2010 for transitional housing and supportive services for herself and children. After having had some time to get on course she then engaged her family in the Permanent Daylight Supportive Housing Program for the ongoing assistance she felt they needed.
Today Katelyn maintains the place set for her; she nurtures herself and children as she cares for her recovery process and lives a more balanced lifestyle. As a result of her resilience and hard work, Katelyn now looks forward to having a more hopeful future as she journeys ahead– keeping family first and working to set a place for herself.
2017 Sponsors